JESM SDA Elementary School
Learn. Educate. Soar.
I will instruct thee and teach thee in the way which thou shalt go: I will guide thee with mine eye. Psalms 32:8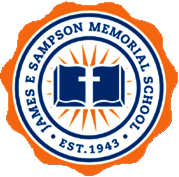 Registration and Enrollment
If you would like your child to attend JE Sampson School, please Contact Us!
Programs & Facilities
You can learn more about our program simply by checking out our classes. More on this coming soon!
Staff Directory
Learn more about our staff HERE!
Our Mission & Vision
James E. Sampson Memorial Seventh Day Adventist School is the oldest Christian School in St. Lucie County. We offer Christ centered education, preparing students for responsible citizenship in this world and the world-to-come. J.E.S.M. is God centered, result oriented, and aligned with national standards. We offer small class sizes and a nurturing environment which ensures maximum development of each individual's potential. Our educators are committed to academic excellence and to leading your children to Christ.
JESMS believes in a vibrant and lively environment for our VPK-2 students. The educational personnel, environment, and curruculum alike helps make a difference for students in this age group.
As children get older, they encounter more in life that can be helpful or even distractions. James E Sampson Memorial School aims to properly work with children in this age group to help them when they have to encounter what the world has for them.
James E Sampson Memorial School understands that in grades 6-8, students are preparing for bigger challenges. They better prepared for High School they are, the more successful they will be. This success will have been built from the strong foundation that we hope each student will gain.
Falculty info coming soon.
Information for parents coming soon.
JESMS Welcomes the New 6-8 Grade Teacher!
Location
3201 Memory Ln,
Fort Pierce, FL 34981
School Hours
M-Th: 8am – 3pm
Fr: 8am – 1pm
Weekends: Closed
Phone & Email
(772) 465-8386
jamesesampson@flcoe.org
"The mediocre teacher tells. The good teacher explains. The superior teacher demonstrates. The great teacher inspires."
~William A. Ward
What Parents and Students are Saying
I was blessed to learn so much more than academics at this school. JESM SDA School helped equip me for life!
Ananda Glover
Graduate, JESM SDA School
Watching my child learn at JESM SDA School has been a joy! There's nothing like Christian education.
Mrs Smith
Parent, JESM SDA School
I will miss my teacher and my friends. But I feel ready to take on high school. Thank you James E Memorial School!
Anna Johnson
Graduate, JESM SDA School
Purspose to rightly Train our children
Years experience doing it
Get In Touch
Location: 3201 Memory Ln, Fort Pierce, FL 34981
Telephone: (772) 465-8386
Email: jamesesampson@flcoe.org
School Hours: M-Th 8:00 to 3:30 and F 8:00 to 2:00
Office Hours: M-Th 8:00 to 4:00 and F 8:00 to 2:00